EFFECT OF DEEP BREATH RELAXATION ON THE ANXIETY AMONG THIRD TRIMESTER PREGNANT WOMEN IN MOJOKERTO DISTRICT, INDONESIA: A QUASI EXPERIMENT
Zulfa Rufaida

Midwife Professional Study Program, Sekolah Tinggi Ilmu Kesehatan Majapahit, Indonesia

Ratri Istiqomah

Faculty of Medicine, Universitas Brawijaya, Indonesia

Sri Wardini Puji Lestari

Midwife Professional Study Program, Sekolah Tinggi Ilmu Kesehatan Majapahit, Indonesia
Keywords:
anxiety, deep breathing relaxation, third trimester pregnant women, ibu hamil trimester III, kecemasan, relaksasi napas dalam
Abstract
Background: Factors that contribute to the occurrence of lengthy labor are power: the strength of the mother when giving birth is ineffective and the mother's psychology is unready for childbirth. Purpose. Psychologycally, an unrelaxed mother can pass this condition on to her baby so that the baby feels easily agigated. Methods: Used a quasi-experimental design with pretest-post-test none-quivalent control group design. The sample was divided into 2 groups (treatment and control), 15 people per group. Sampling was undertaken with purposive sampling technique. An anxiety measurement instrument was the Zung Self-Rating Anxiety Scale (SAS/SRAS). Results: The result of the paired t-test with a significance level of a: 0.05 was a significance of 0.007<0.05 with a confidence interval value (95% CI): 8.83-13.70, thus Ha was accepted. Results showed that there was effect of deep breathing relaxation on the anxiety score of pregnant woman. Conclusion: Deep breathing relaxation has the advantage of reducing anxiety, both physical and emotional stress, relieving pain, and insomnia. The importance of managing deep breathing relaxation non-pharmacological therapy was to reduce anxiety in pregnant woman, since deep breathing relaxation therapy can be done independently and relatively easy to do.
Abstrak
Latar Belakang: Faktor yang berkontribusi akan terjadinya persalinan lama adalah power yaitu kekuatan ibu saat melahirkan tidak efektif dan psikologis ibu yang tidak siap menghadapi persalinan. Tujuan: Secara psikologis, ibu yang tidak tenang dapat menurunkan kondisi tersebut kepada bayinya sehingga bayi mudah merasa gelisah. Metode: Metode penelitian menggunakan quasi experiment design pretest-posttest noneequivalent control group design. Sampel dibagi 2 kelompok (perlakuan dan kontrol) yaitu 15 orang per kelompok. Sampling dengan tehnik purposive sampling. Instrumen pengukuran kecemasan dengan Zung Self-Rating Anxiety Scale (SAS/SRAS). Hasil: Hasil paired t test dengan tingkat nilai kemaknaan a: 0,05 signifikansi 0,007<0,05 dengan nilai confident interval (CI 95%): 8.83-13.70, sehingga Ha di terima, ada pengaruh relaksasi napas dalam dengan skor kecemasan ibu hamil. Kesimpulan: Relaksasi napas dalam memiliki suatu kelebihan untuk mengurangi kecemasan stres baik fisik maupun emosional, menghilangkan nyeri, dan insomnia. Pentingnya penatalaksanaan terapi nonfarmokologis relaksasi napas dalam untuk menurunkan kecemasan pada ibu hamil, karena terapi relaksasi napas dalam dapat dilakukan mandiri, relatif mudah dilakukan.
References
Alvaro, R., Christianingrum, R., & Riyono, T. (2021). Analisis Rkp Dan Pembicaraan Pendahuluan Apbn No. 04/An.Pka/Pp/Vi/2021 Dak Fisik Bidang Kesehatan Dalam Mendukung Target Penurunan Angka Kematian Ibu Dan Anak. Jakarta: Pusat Kajian Anggaran Badan Keahlian - Sekretaris Jenderal Dpr Ri.
Apriliana, W., P, T. R., & Wahyurianto, Y. (2022). Tingkat Kecemasan Pada Ibu Hamil Trimester Iii Multigravida Pada Masa Pandemi Covid-19 Di Desa Sumurgung Kecamatan Tuban. Urnal Keperawatan Widya Gantari Indonesia, 6(2), Juli 2022. doi: 10.52020/jkwgi.v6i2.3446 , 100-106.
Dusek JA, Benson H. Mind-body medicine: a model of the comparative clinical impact of the acute stress and relaxation responses. Minn Med. 2009 May, 92(5). Pp. 47-50.
Tantona, Muhamad Dwiky. Anxiety disorders in pregnant women during Covid-19 pandemic. Jurnal Penelitian Perawat Profesional, 2.4 (2020). Pp. 381-392.
Heriani. (2016). Kecemasan Dalam Menjelang Persalinan Ditinjau Dari Paritas, Usia Dan Tingkat Pendidikan Anxiety In Nearly Of Labor Based On Parity, Age And Level Of Education. Jurnal Ilmu Kesehatan Aisyah Volume, 1(2). pp. 1-7.
Kisworo, D. A. (2021). Kecemasan Ibu Hamil Pada Masa Pandemi Covid-19: Study Literature Review. Magelang: Program Studi S1 Keperawatan Fakultas Ilmu Kesehatan Universitas Muhammadiyah Magelang
Kuswaningsih. (2020). Pengaruh Teknik Relaksasi Nafas Dalam Terhadap Kecemasan Pada Ibu Hamil Dengan Hipertensi Di Puskesmas Prangat Kabupaten Kutai Kartanegara. Kalimantan Timur: Kementerian Kesehatan Republik Indonesia Politeknik Kesehatan Kalimantan Timur Jurusan Kebidanan Program Studi Sarjana Terapan Kebidanan.
Novitasari, T., Budiningsih, T. E., & Mabruri, M. I. (2013). Keefektivan Konseling Kelompok Pra-Persalinan Untuk Menurunkan Tingkat Kecemasan Primigravida Menghadapi Persalinan. Developmental And Clinical Psychology. pp. 62-70.
Nipa, N. (2017). Engaruh Latihan Relaksasi Napas Dalam Terhadap Perubahan Skor Kecemasan Pasien Penyakit Ginjal Kronik Yang Menjalani Hemodialisis Di Rumah Sakit Pendidikan Universitas Hasanuddin. Makassar: Program Studi Ilmu Keperawatan Fakultas Keperawatan Universitas Hasanuddin.
Putri, E. R., & Margaretta, S. S. (2022). Efektifitas Relaksasi Deep Breathing Dengan Teknik Self Intruction Training (Sit) Dalam Bentuk Video Dan Audio Untuk Mengurangi Kecemasan Pada Ibu Hamil. Cendekia Utama Jurnal Keperawatan Dan Kesehatan Masyarakat Stikes Cendekia Utama Kudus, 10(1). pp. 26-33.
Safitri, J., Sunarsih, & Yuliasari, D. (2020). Terapi Relaksasi (Napas Dalam) Dalam Mengurangi Nyeri Persalinan Relaxation Therapy (Inside Breathing) In Reducing Labor. Jurnal Dunia Kesmas, 9(3). pp. 365-370.
Smeltzer, S. C., Bare, B. G., 2001, "Buku Ajar Keperawatan Medikal-Bedah Brunner &Suddarth. Vol. 2. E/8", EGC, Jakarta.
WHO. (2022). COVID-19 pandemic triggers 25% increase in prevalence of anxiety and depression worldwide. New York: Communications Officer World Health Organization.
Yogyakarta, P. K. (2020). Bab Ii. Yogyakarta. Available at Http://Eprints.Poltekkesjogja.Ac.Id/3561/4/04%20chapter%202.Pdf.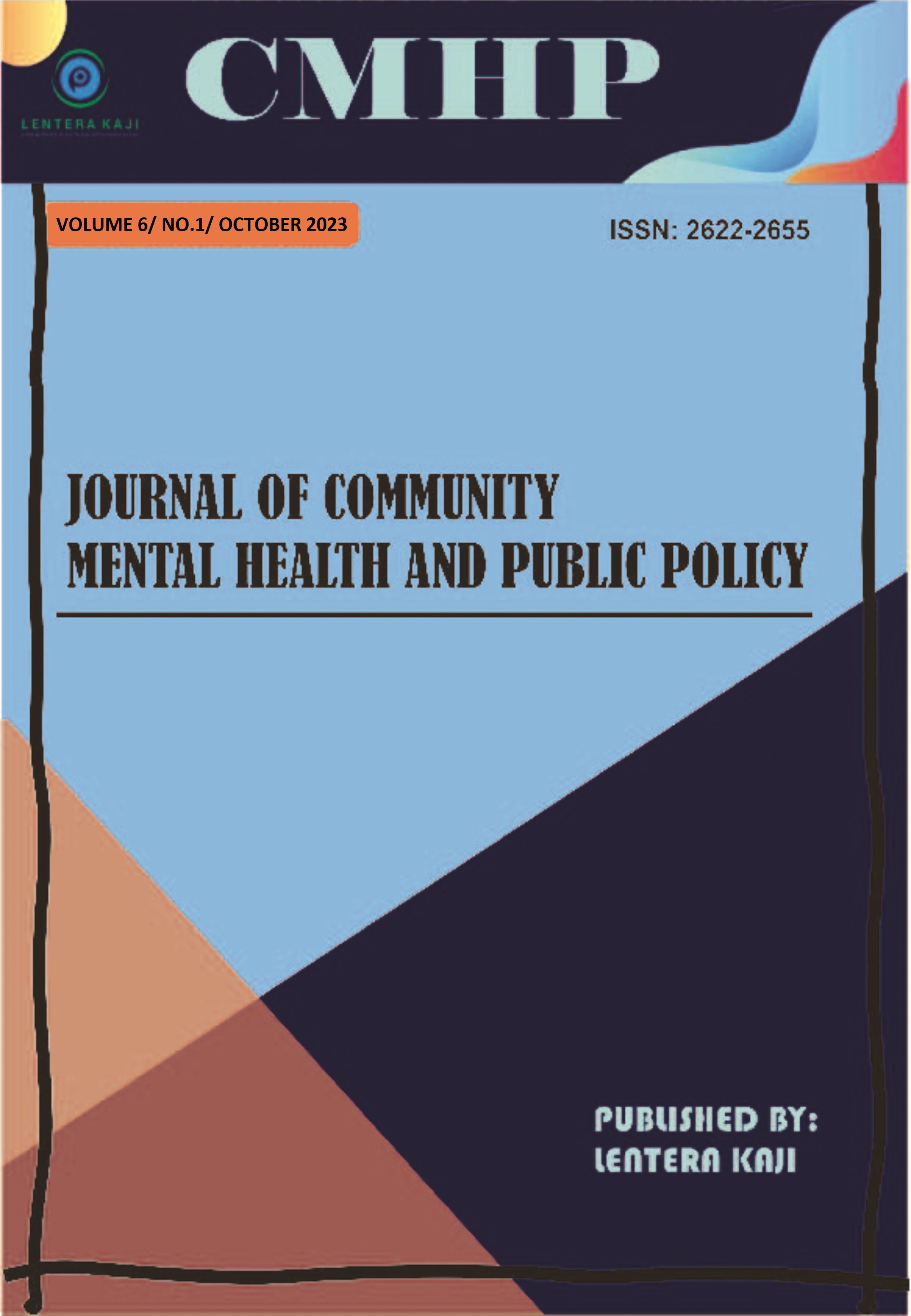 Copyright (c) 2023 Zulfa Rufaida, Ratri Istiqomah, Sri Wardini Puji Lestari
This work is licensed under a Creative Commons Attribution 4.0 International License.