THE EFFECT OF FAMILY SUPPORT ON NURSES' BURNOUT LEVEL: A CROSS-SECTIONAL STUDY
Diana Laili Putri

School of Health and Life Sciences, Universitas Airlangga, Indonesia

Syifaul Lailiyah

School of Health and Life Sciences, Universitas Airlangga, Indonesia

Seng-Choi Chong

Psychiatry Department, Faculty of Medicine and Health Sciences, Universiti Putra Malaysia, Malaysia
Keywords:
Burnout, Family Support, Nurse, Dukungan keluarga, Perawat
Abstract
Background: Nurses experience burnout due to high workloads and various job demands. Family support is one of the factors which influences the levels of burnout.  Purpose: To examining the effect of family support on the burnout levels faced by inpatient unit nurses at Blambangan Hospital. Methods: This study was conducted quantitatively with a cross-sectional study design. It took place in December 2022 at Blambangan Hospital. Respondents were 136 inpatient unit nurses. Both primary and secondary data were collected, which included a survey using the Maslach Burnout Inventory questionnaire. This research instrument was tested for validity and reliability. The research data was analyzed using a simple linear test with SPSS 23. Results: Based on the results of the linear regression equation, it is discovered that family support positively influences burnout among nurses in the inpatient unit of Blambangan Banyuwangi Hospital. In addition, family support has an effect of 6% on burnout in nurses; meanwhile, 94% of burnout is influenced by other unexamined variables. Conclusion: Family support reduces burnout levels among nurses. Therefore, it is necessary to form crucial stress management strategies to reduce burnout for nurses by fostering the family support system. 
Abstrak
Latar Belakang: Perawat mengalami burnout karena beban kerja yang tinggi dan tuntutan pekerjaan yang beragam. Dukungan keluarga merupakan salah satu faktor yang mempengaruhi tingkat burnout. Tujuan: Untuk mengetahui pengaruh dukungan keluarga terhadap tingkat burnout yang dihadapi perawat unit rawat inap Rumah Sakit Daerah (RSUD) Blambangan. Metode: Penelitian ini dilakukan secara kuantitatif dengan desain penelitian cross sectional. Itu terjadi pada Desember 2022 di RSUD Blambangan. Responden adalah 136 perawat unit rawat inap. Data primer dan sekunder dikumpulkan, termasuk survei menggunakan kuesioner Maslach Burnout Inventory. Instrumen penelitian ini diuji validitas dan reliabilitasnya. Data penelitian dianalisis menggunakan uji linier sederhana dengan SPSS 23. Hasil: Berdasarkan hasil persamaan regresi linier diketahui bahwa dukungan keluarga berpengaruh positif terhadap burnout perawat di ruang rawat inap RSUD Blambangan. Selain itu, dukungan keluarga berpengaruh sebesar 6% terhadap burnout pada perawat; Sementara itu, 94% burnout dipengaruhi oleh variabel lain yang tidak teruji. Kesimpulan: Dukungan keluarga menurunkan tingkat burnout pada perawat. Oleh karena itu, perlu dibentuk strategi manajemen stres yang krusial untuk mengurangi kejenuhan bagi perawat dengan membina sistem dukungan keluarga.
References
Adawiyah, Raden Adjeng Robiatul. (2013). Kecerdasan Emosional, Dukungan Sosial Dan Kecenderungan Burnout. Persona: Jurnal Psikologi Indonesia 2 (2).
Anggraini, Dessy Puspa, and Achmad Chusairi. (2022). Pengaruh Academic Self-Efficacy Dan Student Engagement Terhadap Academic Burnout Mahasiswa Dalam Pembelajaran Daring. Journal of Community Mental Health and Public Policy, 4 (2). pp. 79–94. doi: 10.51602/cmhp.v4i2.70.
Bunga, Dinda Nur Fajri Hidayati, Rotua Suriany Simamora, and Kiki Deniati. (2022). Dukungan Sosial Terhadap Burnout Syndrome Pada Perawat Dalam Layanan Pasien COVID-19. Jurnal Keperawatan Silampari 6 (1): 506–13.
Dalimunthe, Jahroani, Razia Begum Suroyo, and Asriwati Asriwati. (2021). Analisis Faktor Yang Memengaruhi Burnout Syndrome Pada Perawat Covid-19 Di Rsu Haji Medan. Jurnal Kesehatan Tambusai, 2 (4). pp. 184–91.
Guillermo A, Cristina Vargas, Concepción San Luis, Inmaculada García, Gustavo R Cañadas, and I Emilia. (2015.) Risk Factors and Prevalence of Burnout Syndrome in the Nursing Profession. International Journal of Nursing Studies, 52 (1). pp. 240–49.
Gungor, Abdi. (2019). Investigating the Relationship between Social Support and School Burnout in Turkish Middle School Students: The Mediating Role of Hope. School Psychology International, 40 (6). pp. 581–97.
Halawa, Aristina. (2021). Hubungan Dukungan Keluarga Dan Strategi Penanganan Kecemasan Pada Perawat Yang Merawat Pasien Penderita Covid-19. Jurnal Keperawatan, 10 (1). pp. 18–28. doi: /10.47560/kep.v10i1.267.
Hardiansyah, Mulky. (2019). Gambaran Tingkat Burnout Pada Perawat Di Ruang Rawat Inap Rumah Sakit Bhayangkara Sartika Asih Bandung Tahun 2019. Bhakti Kencana University.
Humas Fkui. (2020). No 83% Tenaga Kesehatan Indonesia Mengalami Burnout Syndrome Derajat Sedang Dan Berat Selama Masa Pandemi COVID-19 Title. Faculty of Medecine, Universitas Indonesia.
Khalafi, Ali, Yalda Tangestani, and Shima Osanloo. (2014). Relationship between Job Stress and Social Support and Burnout in Nurses. Journal of Novel Applied Sciences, 3 (1). pp. 48–52.
Khan, Shamila N, and Sohail Zafar. (2013). Exploring the Causes and Consequences of Job Burnout in a Developing Country. Journal of Basic and Applied Research International, 3(5). pp. 212-227.
Labiib, Akhmad. (2013). Analisis Hubungan Dukungan Sosial Dari Rekan Kerja Dan Atasan Dengan Tingkat Burnout Pada Perawat Rumah Sakit Jiwa. Jurnal Kesehatan Masyarakat Universitas Diponegoro, 2 (1). pp. 18731.
Mariyanti, Sulis, and Anisah Citrawati. (2011). Burnout Pada Perawat Yang Bertugas Di Ruang Rawat Inap Dan Rawat Jalan RSAB Harapan Kita. Jurnal Psikologi Esa Unggul, 9 (02). pp. 126201.
Maros, Hikmah, and Sarah Juniar. (2016). Penerapan Pembelajaran Kontekstual Untuk Meningkatkn Literasi Sains Dan Kualitas Argumentasi Siswa Pondok Pesantren Daarul Uluum Pui Majalengka Paada Diskusi Sosiosaintifik Ipa. 21(1). pp. 1–23..
Prestiana, Novita Dian Iva, and Dewanti Purbandini. (2012). Hubungan Antara Efikasi Diri (Self Efficacy) Dan Stress Kerja Dengan Kerja (Burnout) Pada Peraa IGD Dan ICU RSUD Kota Bekasi. Soul 5. pp. 14.
Puspitaningrum, Kristianti. (2018). Pengaruh Dukungan Sosial Orang Tua Terhadap Burnout Pada Mahasiswa Dalam Mengerjakan Skripsi. Jurnal Riset Mahasiswa Bimbingan Dan Konseling, 4 (10). pp. 615–25.
Putra, Agustinus Chrissang Maha, and Darmawan Muttaqin. (2020). "Hubungan Antara Dukungan Sosial Dengan Burnout Pada Perawat Di Rumah Sakit X. Psikostudia : Jurnal Psikologi, 9 (2). pp. 82. doi: 10.30872/psikostudia.v9i2.3901.
Ramdan, Iwan M, and Oktavian Nursan Fadly. (2016). Analisis Faktor Yang Berhubungan Dengan Burnout Pada Perawat Kesehatan Jiwa. Jurnal Keperawatan Padjadjaran, 4 (2).
Tipandjan and Sundaram. (2012). Nurses Burnout: Does Personality and Social Support Relate? Journal of Organisation and Human Behaviour , 1 (3).
Yasin, Md Aris Safree Md, and Mariam Adawiah Dzulkifli. (2010). The Relationship between Social Support and Psychological Problems among Students. International Journal and Business and Social Science, 1 (3). pp. 110–16.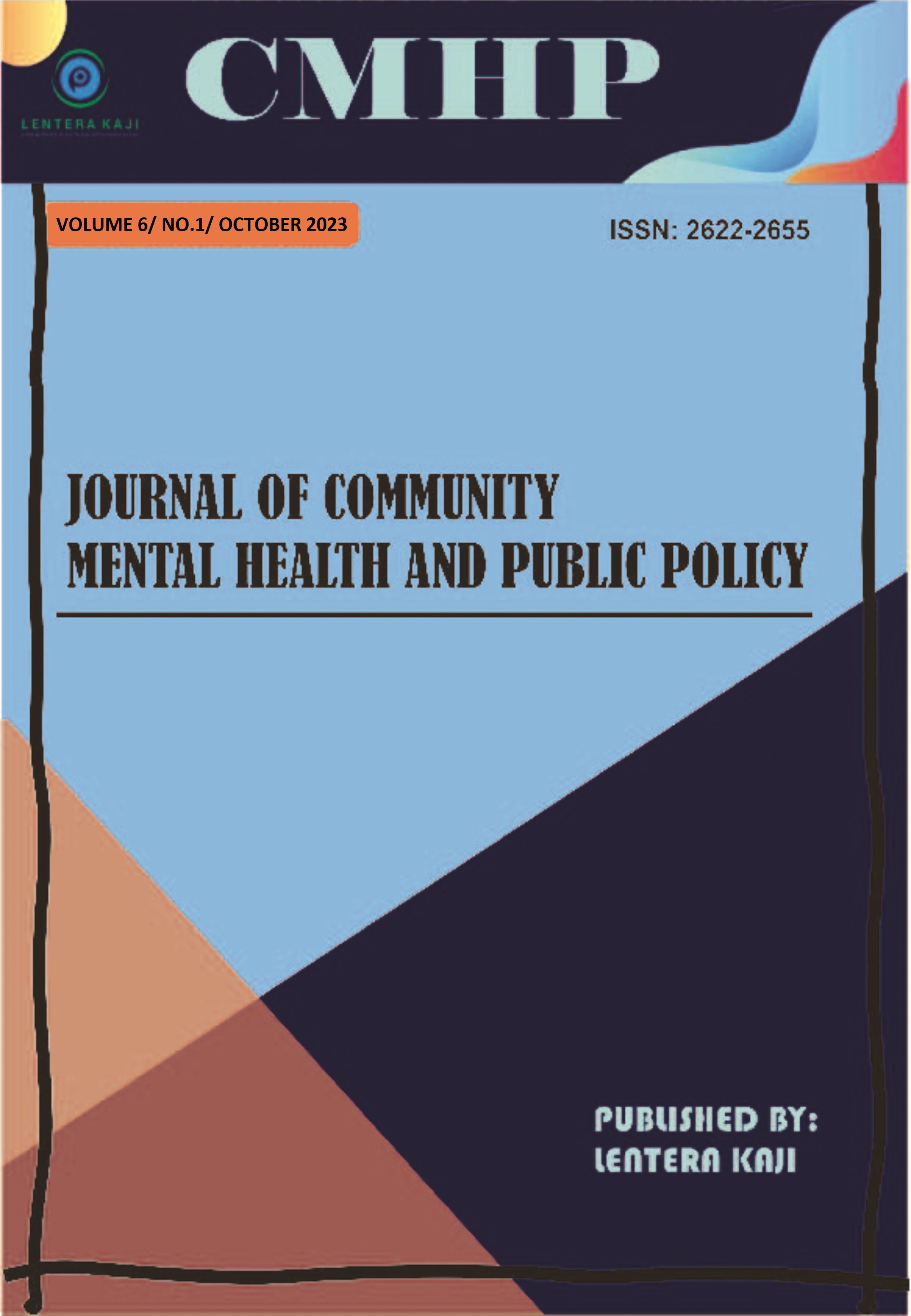 Copyright (c) 2023 Diana Laili Putri, Syifaul Lailiyah, Seng-Choi Chong
This work is licensed under a Creative Commons Attribution 4.0 International License.