EVALUASI CAPAIAN PEMBERIAN FE PADA REMAJA PUTRI TULUNGAGUNG MELALUI KEGIATAN MAGANG MAHASISWA
THE EVALUATION OF THE ACHIEVEMENT OF GIVING FE TO TULUNGAGUNG YOUNG WOMEN THROUGH STUDENT INTERNSHIP ACTIVITIES
Widadari Intan Rujaby

Universitas Airlangga

Trias Mahmudiono

Bekti Krisdyana
Keywords:
Anemia, Fe, Remaja Putri, Young Women
Abstract
ABSTRACT
Introduction: Low Fe coverage in young women can cause health problems such as anemia. The prevalence of anemia in Indonesia is higher in adolescent girls than in adolescent boys by 27.2%. This study aims to determine the causes of low Fe administration in young women and provide innovation proposals related to these causes. Method: This study uses a qualitative method with a type of case study research. This research was conducted from January 31, 2022 to March 16, 2022 at the Tulungagung District Health Office. This study uses primary and secondary data. The analysis is carried out by means of a fishbone diagram to find the root cause of the problem. Result: In the area of the Health Office of Tulungagung Regency, the lowest nutritional problem was found in the coverage of young women who received Blood Supplement Tablets (TTD)/Fe at 3.3%. This achievement is still relatively low compared to the target of the National Medium-Term Development Plan (RPJMN) in 2021, which is 52%. Based on the research conducted, the causes of low Fe administration in young women include several factors. Discussion: Due to the problem of low Fe coverage in Tulungagung District, public health students made an innovation proposal in the form of a reputation program, which aims to increase the provision of Fe to young women, especially in Tulungagung District. 
ABSTRAK
Latar Belakang: Rendahnya cakupan Fe pada remaja putri dapat menyebabkan masalah kesehatan seperti anemia. Prevalensi anemia di Indonesia lebih banyak pada remaja putri dibandingkan remaja laki-laki sebesar 27,2%. Penelitian ini bertujuan untuk mengetahui penyebab rendahnya pemberian Fe pada remaja putri dan memberikan usulan inovasi terkait penyebab tersebut. Metode: Penelitian ini menggunakan metode kualitatif dengan jenis penelitian studi kasus. Penelitian ini dilaksanakan pada tanggal 31 Januari 2022 hingga 16 Maret 2022 di Dinas Kesehatan Kabupaten Tulungagung. Penelitian ini menggunakan data primer dan data sekunder. Analisis yang dilakukan dengan cara diagram tulang ikan untuk menemukan akar penyebab masalah. Hasil: Di wilayah Dinas Kesehatan Kabupaten Tulungagung ditemukan masalah gizi terendah adalah cakupan remaja putri yang menerima Tablet Tambah Darah (TTD)/Fe sebesar 3,3%. Pencapaian ini masih relatif rendah dibandingkan dengan target Rencana Pembangunan Jangka Menengah Nasional (RPJMN) tahun 2021, yaitu 52%. Berdasarkan penelitian yang dilakukan, penyebab rendahnya pemberian Fe pada remaja putri meliputi beberapa faktor. Kesimpulan: Adanya masalah rendahnya cakupan Fe di Kabupaten Tulungagung, maka mahasiswa kesehatan masyarakat membuat proposal inovasi berupa Program Reputasi yang bertujuan untuk meningkatkan pemberian Fe pada remaja putri khususnya di kabupaten Tulungagung.
References
Chasanah, S. U., Basuki, P., & Dewi, I. M. (2019). Jurnal Pengabdian Masyarakat. Dinamisia : Jurnal Pengabdian Kepada Masyarakat, 3(1), 105–111. https://doi.org/10.31849/dinamisia.v3i1.2729
Dinkesta. (2021). Capaian Program Gizi Dinas Kesehatan Kabupaten Tulungagung Tahun 2021.
Djogo, H. M. A., Betan, Y., & Letor, Y. M. K. (2021). PREVALENSI ANEMIA REMAJA PUTRI SELAMA MASA PANDEMI COVID -19 DI KOTA KUPANG. Jurnal Ilmiah Obsgin, 13(4), 1–6.
Eko. (2022). Survei SSGBI Tahun 2021 Sebanyak 5.33 Juta Balita Alami et, Target Penurunan 3% Pertahun. PAUDPEDIA. https://paudpedia.kemdikbud.go.id/berita/survei-ssgbi-tahun-2021-sebanyak-533-juta-balita-alami-stunting-target-penurunan-3-pertahun?id=651&ix=11
Fatmawati, A., & Subagja, C. A. (2020). Analisis faktor kepatuhan mengkonsumsi tablet zat besi pada remaja putri. Jurnal Keperawatan, 12(3), 363–370.
Fitranti, D. Y., Fitriyah, K., & Kurniawati, M. D. (2022). Pencegahan Anemia Pada Remaja Putri dengan Metode Focus Group Discussion di SMA Negeri 3 Pekalongan. 1(1), 46–54.
Fitriana, F., & Dwi Pramardika, D. (2019). Evaluasi Program Tablet Tambah Darah pada Remaja Putri. MPPKI (Media Publikasi Promosi Kesehatan Indonesia): The Indonesian Journal of Health Promotion, 2(3), 200–207. https://doi.org/10.31934/mppki.v2i3.807
Kambuaya, C. (2017). Pengaruh Motivasi, Kedispilinan Dan Adaptasi Diri Terhadap Prestasi Belajar Siswa Peserta Program Afirma Pendidikan Menengah. Jshare: Social Work Jurnal, 5(2), 106–208. http://www.elsevier.com/locate/scp
Kemenkes RI. (2020). Gizi saat Remaja Tentukan Kualitas Keturunan. Kementerian Kesehatan Republik Indonesia. https://www.kemkes.go.id/article/view/20012600004/gizi-saat-remaja-tentukan-kualitas-keturunan.html#:~:text=Data Riskesdas 2018 menunjukkan bahwa,kondisi kurus dan sangat kurus.
Mahadewi, N. (2021). Perbandingan Pengetahuan Pentingnya Konsumsi Tablet Tambah Darah Melalui Penyuluhan Kesehatan Dengan Video Dan Leaflet. Bali Health Journal, 5(1). http://ejournal.unbi.ac.id/index.php/BHJ/article/view/89%0Ahttp://ejournal.unbi.ac.id/index.php/BHJ/article/download/89/143
Mawaddah, S. (2019). Peningkatan Kadar Hb Pada Kejadian Anemia Dengan Pemberian Sirup Kalakai. Jurnal Ilmiah Bidan, 15(1), 27–33. https://doi.org/10.37160/bmi.v15i1.224
Naufaldi, M. R., & Idris, H. (2020). Evaluation o f Iron Tablet Program Among Adolescent Girl. Advances in Health Sciences Research, 25, 310–319.
Notoatmodjo, S. (2011). Kesehatan Masyarakat: Ilmu dan Seni (Revisi). PT RINEKA CIPTA.
Rahmadhita, K. (2020). Permasalahan Stunting dan Pencegahannya. Jurnal Ilmiah Kesehatan Sandi Husada, 11(1), 225–229. https://doi.org/10.35816/jiskh.v11i1.253
Supariasa, D. N., & Purwaningsih, H. (2019). Faktor-Faktor Yang Mempengaruhi Kejadian Stunting pada Balita di Kabupaten Malang. Karta Rahardja, Jurnal Pembangunan Dan Inovasi, 1(2), 55–64. http://ejurnal.malangkab.go.id/index.php/kr
Yudina, M. K., & Fayasari, A. (2020). Evaluation of Iron Tablet Supplementation Program of Female Adolescent in East Jakarta. Jurnal Ilmiah Kesehatan (JIKA), 2(3), 147–158. https://doi.org/10.36590/jika.v2i3.56
Yuniarti, Rusmilawaty, & Tunggal, T. (2015). Hubungan Antara Kepatuhan Minum Tablet Fe dengan Kejadian Anemia pada Remaja Putri di Ma Darul Imad Kecamatan Tatah Makmur Kabupaten Banjar. Jurnal Publikasi Kesehatan Masyarakat Indonesia, 2(1), 31–36.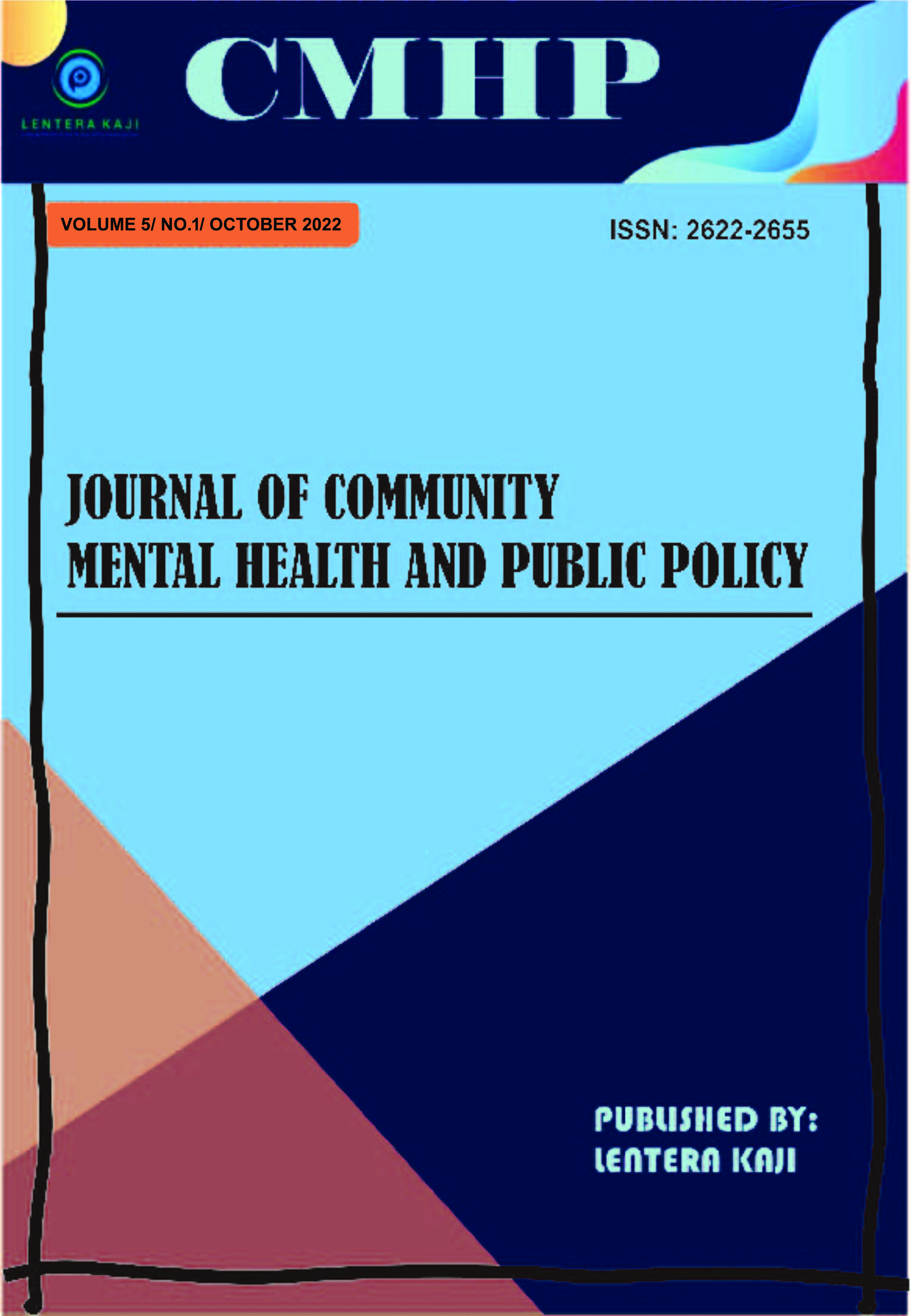 Copyright (c) 2022 Widadari Intan Rujaby
This work is licensed under a Creative Commons Attribution 4.0 International License.