STUDI LITERATUR (SISTEMATIC REVIEW): HUBUNGAN DUKUNGAN SUAMI DENGAN TINGKAT KECEMASAN IBU PRIMIGRAVIDA TERHADAP PROSES PERSALINAN
LITERATURE STUDY (SYSTEMATIC REVIEW): RELATIONSHIP OF HUSBAND SUPPORT WITH ANXIETY LEVEL OF PRIMIGRAVIDA MOTHERS ON THE LABOR PROCESS
Keywords:
Dukungan suami, kecemasan, trimester 3, primigravida, Husband's support, anxiety, 3rd trimester
Abstract
ABSTRACT
Husband's support is factor in childbirth because it can reduce wife's anxiety in facing childbirth. The 2016 Indonesian Demographic and Health Survey noted that there were 4912 or 28.7% of all pregnant women in Indonesia who experienced anxiety. Anxiety is a problem that is often experienced by primigravida mothers during the labor process. This study aims to analyze articles related to the relationship between husband's support and anxiety levels of primigravida mothers. This research uses a systematic review study with the Preferred Reporting Items Systematic and Meta-Analysis (PRISMA) method with inclusion criteria consisting of publications in the last five years, keywords, cross sectional study design, full text. While the exclusion criteria consisted of publications more than the last five years, inappropriate keywords, full and less than 250 words, and inaccessibility. The articles used national articles. Article search starts on March 4 – March 11, 2021. Data collection uses article reviews with Google Scholar. Based on articles that have been collected, it was found that husband's support for primigravida mothers has a significant relationship with anxiety. Husband's support in the form of physical and psychological support can reduce anxiety and increase the confidence of primigravida mothers in dealing with the labor process.
ABSTRAK
Dukungan suami  merupakan salah satu faktor yang sangat penting dalam masa kehamilan maupun persiapan persalinan. Survei Demografi dan Kesehatan Indonesia tahun 2016 tercatat AKI sebanyak 4912 dengan presentase 28,7% dari seluruh ibu hamil di Indonesia dilaporkan mengalami kecemasan. Kecemasan merupakan masalah utama yang sering dihadapi ibu hamil ketika menjelang proses kehamilan terutama pada ibu primigravida. Penelitian ini bertujuan untuk mengumpulkan dan menganalisis artikel terkait hubungan dukungan suami dengan tingkat kecemasan ibu primigravida. Penelitian ini menggunakan studi tinjauan sistematik dengan metode Preferred Reporting Items for Systematic and Meta-Analysis (PRISMA) dengan kriteria inklusi terdiri dari terbitan lima tahun terakhir, judul sesuai dengan kata kunci, study design cross sectional, full text. Sedangkan kriteria eksklusi terdiri dari terbitan lebih dari lima tahun terakhir, judul tidak sesuai, abstrak lengkap dan tidak lebih dari 250 kata, dan tidak dapat diakses. Artikel yang digunakan dalam penyusunan jurnal ini adalah artikel nasional. Pencarian artikel dimulai pada tanggal 4 Maret – 11 Maret 2021. Pengumpulan data penelitian menggunakan metode reviu artikel dengan search engine menggunakan google scholar. Berdasarkan 11 artikel yang telah dikumpulkan, didapatkan bahwa dukungan suami terhadap ibu primigravida memiliki hubungan yang signifikan dengan tingkat kecemasan. Dukungan suami berupa dukungan fisik dan psikologis dapat menurunkan tingkat kecemasan dan meningkatkan kepercayaan diri dalam menjalani kehamilan dan menghadapi proses persalinan.
References
Aisyah S., & Syarifatul, A. (2021). Dukungan Suami Berhubungan Dengan Kecemasan Ibu Bersalin Primigravida. Health Journal 1, 12(1), 382–394.
Astutik, V. Y., & Sutriyani, T. (2017). Hubungan Senam Hamil, Dukungan Suami Dan Dukungan Bidan Dengan Tingkat Kecemasan Ibu Menjelang Persalinan Di BPS Ny. Hj. M. Indriyati. Care, 5(1), 140–148.
Dewi, N. W. E. P. (2022). Hubungan Dukungan Keluarga Dengan Kecemasan Ibu Hamil Tm Iiii Dalam Menghadapi Persalinan Pada Masa Pandemi Covid-19. Jurnal Medika Usada, 5(1), 46–50. https://doi.org/10.54107/medikausada.v5i1.124
Diani, L. P. P., & Susilawati, L. K. P. A. (2013). Pengaruh Dukungan Suami terhadap Istri yang Mengalami Kecemasan pada Kehamilan Trimester Ketiga di Kabupaten Gianyar. Jurnal Psikologi Udayana, 1(1), 1–11. https://doi.org/10.24843/jpu.2013.v01.i01.p01
Efendi, M. A. (2021). Manuskrip Moh amin efendi.
Farida, L., Kurniawati, D., & Juliningrum, P. P. (2019). Hubungan Dukungan Suami dengan Kesiapan Persalinan pada Ibu Hamil Usia Remaja di Sukowono, Jember. Pustaka Kesehatan, 7(2), 127. https://doi.org/10.19184/pk.v7i2.19125
Isnaniar, I., Norlita, W., & Gusrita, S. (2020). Pengaruh Peran Suami Terhadap Tingkat Kecemasan Ibu Hamil Dalam Menghadapi Proses Persalinan Di Puskesmas Harapan Raya Pekanbaru. Photon: Jurnal Sain Dan Kesehatan, 11(1), 32–44. https://doi.org/10.37859/jp.v11i1.2144
Khadijah, S. S. untuk M. G. S. di F. P. S. K. F. P. (2021). Kecemasan Ibu Hamil Primigravida Trimester III.
Menajang, N., Pondaag, L., & Kundre, R. (2017). Hubungan Dukungan Suami Dengan Tingkat Kecemasan Pada Ibu Primigravida Trimester Iii Di Puskesmas Sonder. Jurnal Keperawatan UNSRAT, 5(1), 105173.
Murdayah, Lilis, D. N., & Lovita, E. (2021). Faktor-faktor yang berhubungan dengan kecemasan pada ibu bersalin. Jambura Journal of Health Sciences and Research, 3(1), 115–125.
Pohan, R. A. (2021). Tingkat Kecemasan Ibu Hamil Trimester Iii Dalam Menghadapi Persalinan Pertama. Jurnal Ilmiah PANNMED (Pharmacist, Analyst, Nurse, Nutrition, Midwivery, Environment, Dentist), 16(3), 620–623. https://doi.org/10.36911/pannmed.v16i3.1209
Sari, F., & Novriani, W. (2017). Persalinan Trisemester Iii. 1, 55–64.
Simanihuruk, R. (2021). Hubungan Dukungan Suami Terhadap Kesiapan Menghadapi Persalinan Pada Ibu Hamil Di Puskesmas Noemuti Tahun 2020. Jurnal Ekonomi, Sosial & Humaniora, 2(11), 166–173.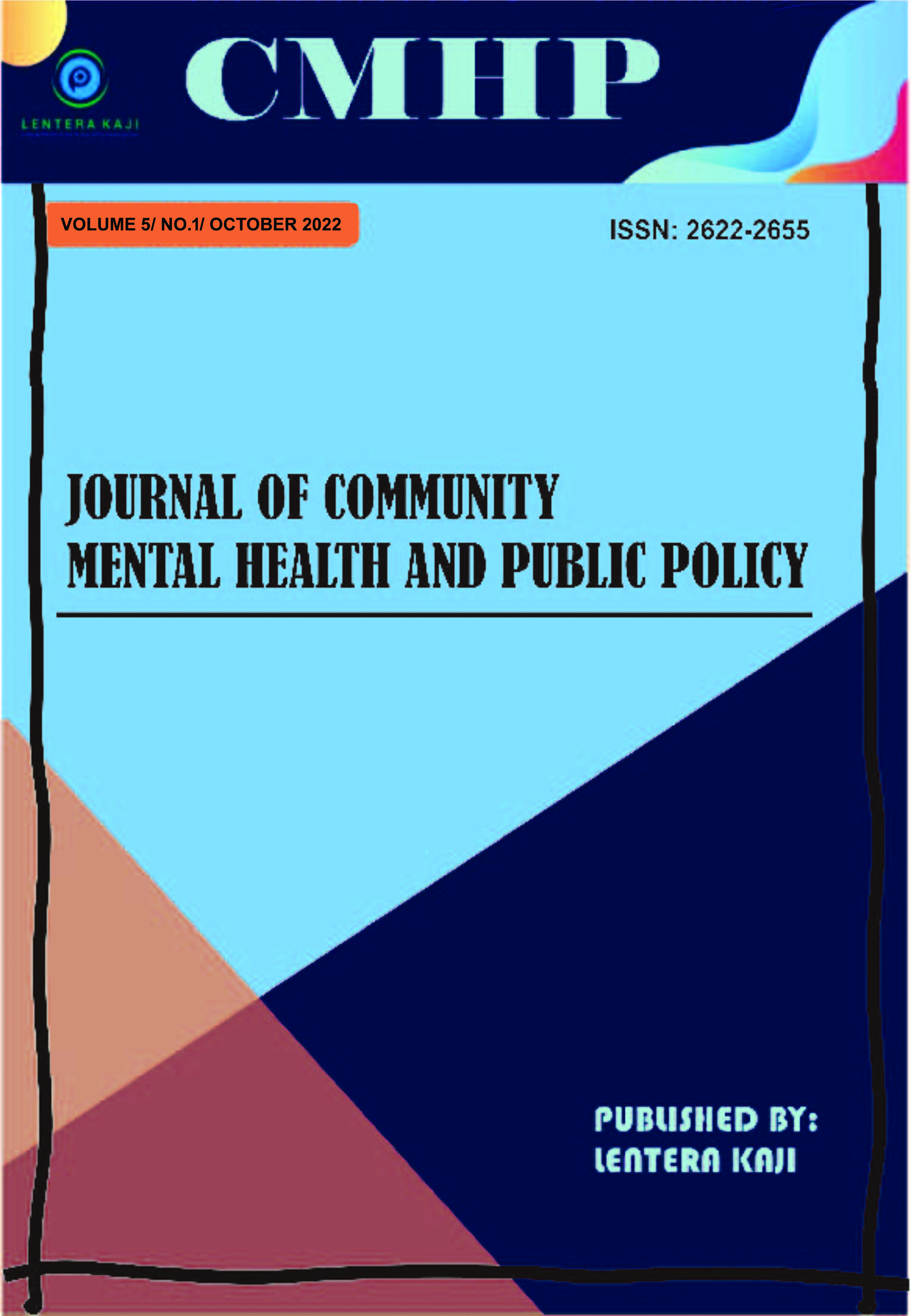 Copyright (c) 2022 Arifah Nurul Basyiroh
This work is licensed under a Creative Commons Attribution 4.0 International License.