KEBIJAKAN PHYSICAL DISTANCING TERHADAP KECEMASAN MAHASISWA: STUDI CROSS-SECTIONAL
PHYSICAL DISTANCE POLICY ON UNDERGRADUATE STUDENT ANXIETY: A CROSS-SECTIONAL STUDY
Bela Yuli Selfia

Jayanti Dian Eka Sari

Xindy Imey Pratiwi

Ianatul Ulya Dewi
Keywords:
Physical Distancing, Covid-19, Distance Education Program, Anxiety, Senior Students
Abstract
ABSTRACT
Sustaining implementation of physical distancing including in the educational field is one of the policies to prevent Covid-19 confirmed cases in Indonesia. This policy can hinder undergraduate students' study needs and makes them feel anxious when they have to carry out online learning activities in long term. So, this study was conducted to determine the effect of physical distancing on the level of undergraduate students' anxiety in East Java. This was an analytic observational study that used a cross-sectional and was carried out from May to July 2020. The sample in this study was 385 people who were taken using the accidental sampling method. The results showed that most undergraduate students in East Java feel very affected by the physical distancing policy with the majority of respondents feeling a mild level of anxiety as many as 157 people or 40.8%. Based on the simple linear regression test obtained the value of sig. 0.001 < 0.05 this indicates that the application of physical distancing has an effect on the level of undergraduate student anxiety during the Covid-19 pandemic. These results can be used as a basis for making future policies regarding anxiety in a pandemic situation.

ABSTRAK
Program Pendidikan Jarak Jauh merupakan penerapan physical distancing di bidang pendidikan sebagai kebijakan pemerintah untuk mencegah penyebaran Covid-19 di Indonesia. Kebijakan ini dapat menghambat kebutuhan studi mahasiswa S1 dan membuat mereka merasa cemas ketika harus melakukan kegiatan pembelajaran daring dalam jangka panjang. Maka, penelitian ini dilakukan untuk mengetahui pengaruh physical distancing terhadap tingkat kecemasan mahasiswa S1 di Jawa Timur. Penelitian ini merupakan penelitian observasional analitik dengan metode cross sectional dan dilaksanakan pada bulan Mei sampai Juli 2020. Sampel dalam penelitian ini adalah 385 orang yang diambil dengan menggunakan metode accidental sampling. Hasil penelitian menunjukkan sebagian besar mahasiswa S1 di Jawa Timur merasa sangat dipengaruhi oleh kebijakan jaga jarak fisik dengan mayoritas responden merasakan tingkat kecemasan yang rendah diukur menggunakan kuesioner baku Zung Self-rating Anxiety Scale. Berdasarkan uji regresi linier sederhana diperoleh nilai sig. 0,001 < 0,05 yang berarti bahwa penerapan physical distancing berpengaruh terhadap tingkat kecemasan mahasiswa S1 selama masa pandemi Covid-19. Hasil ini dapat digunakan sebagai dasar untuk membuat kebijakan masa depan terkait kecemasan dalam situasi pandemi.
References
Adolph, C. et al. (2021) 'Pandemic politics: Timing state-level social distancing responses to COVID-19', Journal of Health Politics, Policy and Law, 46(2), pp. 211–233. doi: 10.1215/03616878-8802162.
Alsaady, I. et al. (2020) 'Impact of COVID19 Crisis on Exam Anxiety Levels among Bachelor Level University Students', Mediterranean Journal of Social Sciences, 11(5), p. 33. doi: 10.36941/mjss-2020-0052.
Annisa, D. F. and Ifdil, I. (2016) 'Konsep Kecemasan (Anxiety) pada Lanjut Usia (Lansia)', Konselor, 5(2), p. 93. doi: 10.24036/02016526480-0-00.
Cao, W. et al. (2020) 'The psychological impact of the COVID-19 epidemic on college students in China', Physhiatry Research, 287(January), p. 5.
Díaz-jiménez, M. et al. (2020) 'Social Work in Health Care Anxiety levels among social work students during the COVID 19 lockdown in Spain', Social Work in Health Care. Routledge, 00(00), pp. 1–13. doi: 10.1080/00981389.2020.1859044.
Fardin, M. A. (2020) 'COVID-19 and Anxiety : A Review of Psychological Impacts of Infectious Disease Outbreaks', Archieves of Clinical Infectious Diseases, (7), pp. 11–13. doi: 10.5812/archcid.102779.Review.
Fauziyyah, R., Awinda, R. C. and Besral, B. (2021) 'Dampak Pembelajaran Jarak Jauh terhadap Tingkat Stres dan Kecemasan Mahasiswa selama Pandemi COVID-19', Jurnal Biostatistik, Kependudukan, dan Informatika Kesehatan, 1(2), p. 113. doi: 10.51181/bikfokes.v1i2.4656.
Gugus Tugas COVID-19 RI (2020) Protokol Percepatan Penanganan Pandemi Covid-19 (Corona Virus Disease 2019), Gugus Tugas Percepatan Penanganan COVID-19. Available at: https://covid19.go.id/storage/app/media/Protokol/Protokol Percepatan Penanganan Pandemi Corona Virus Disease 2019.pdf.
Jacob, L. et al. (2020) 'The relationship between physical activity and mental health in a sample of the UK public: A cross sectional study during the implementation of COVID-19 social distancing measures', Mental Health and Physical Activity. Elsevier Ltd, 19, p. 100345. doi: 10.1016/j.mhpa.2020.100345.
Kennedy, C. et al. (2020) 'The emotional impact of Coronavirus 2019-nCoV (new Coronavirus disease)', Psychiatry Research. Elsevier Ireland Ltd, 287, p. 112915. doi: 10.1016/j.psychres.2020.112915.
Leigh-Hunt, N. et al. (2017) 'An overview of systematic reviews on the public health consequences of social isolation and loneliness', Public Health. Elsevier Ltd, 152, pp. 157–171. doi: 10.1016/j.puhe.2017.07.035.
Mpt, A. V. and Sa, M. (2020) 'The Impact of Covid-19 on Mental Health in Allied Health Undergraduate Students during Lockdown Phase : An Observational Study'. doi: 10.23880/pprij-16000245.
Patimah, I., S, S. and Nuraeni, A. (2015) 'Pengaruh Relaksasi Dzikir terhadap Tingkat Kecemasan Pasien Gagal Ginjal Kronis yang Menjalani Hemodialisa', Jurnal Keperawatan Padjadjaran, v3(n1), pp. 18–24. doi: 10.24198/jkp.v3n1.3.
Public Health Agency of Canada (2020) Physical Distancing: How to Slow the Spread of COVID-19, www.canada.ca.
Saraswati, N. et al. (2020) Hubungan Efikasi Diri dengan Kecemasan Menyusun Skripsi pada Mahasiswa Keperawatan. Journal of Holistic Nursing and Health Science, 04(01). Avaibel Online at https://ejournal2.undip.ac.id/index.php/hnhs.
Satuan Tugas Penanganan Covid-19 (2021) Data Sebaran. Available at: https://covid19.go.id/ (Accessed: 21 April 2021).
Savarese, G. et al. (2020) 'Online University Counselling Services and Psychological Problems among Italian Students in Lockdown Due to Covid-19', Healthcare, 8(4), p. 440. doi: 10.3390/healthcare8040440.
Siswanto and Aseta, P., (2021) Gambaran Faktor- Faktor yang Mempengaruhi Kecemasan Mahasiswa dalam Tugas Akhir Masa Pandemi Covid19, Jurnal Ilmiah Keperawatan 09 (01) doi: 10.52236/ih.v9i1.206.
Son, C. et al. (2020) 'Effects of COVID-19 on college students' mental health in the United States: Interview survey study', Journal of Medical Internet Research, 22(9), pp. 1–14. doi: 10.2196/21279.
Stuart, G. W. (2014) Principles and Practice of Psychiatric Nursing. 10th edn. Elsevier Health Sciences. Sugiyono (2017) Metode Penelitian Kuantitatif, Kualitatif, dan R&D. 2nd edn. Bandung: Alfabeta.
Sundarasen, S. et al. (2020) 'Psychological impact of covid-19 and lockdown among university students in malaysia: Implications and policy recommendations', International Journal of Environmental Research and Public Health, 17(17), pp. 1–13. doi: 10.3390/ijerph17176206.
WHO (2020) Coronavirus, World Health Organization. Available at: https://www.who.int/healthtopics/coronavirus#tab=tab_1 (Accessed: 12 May 2020).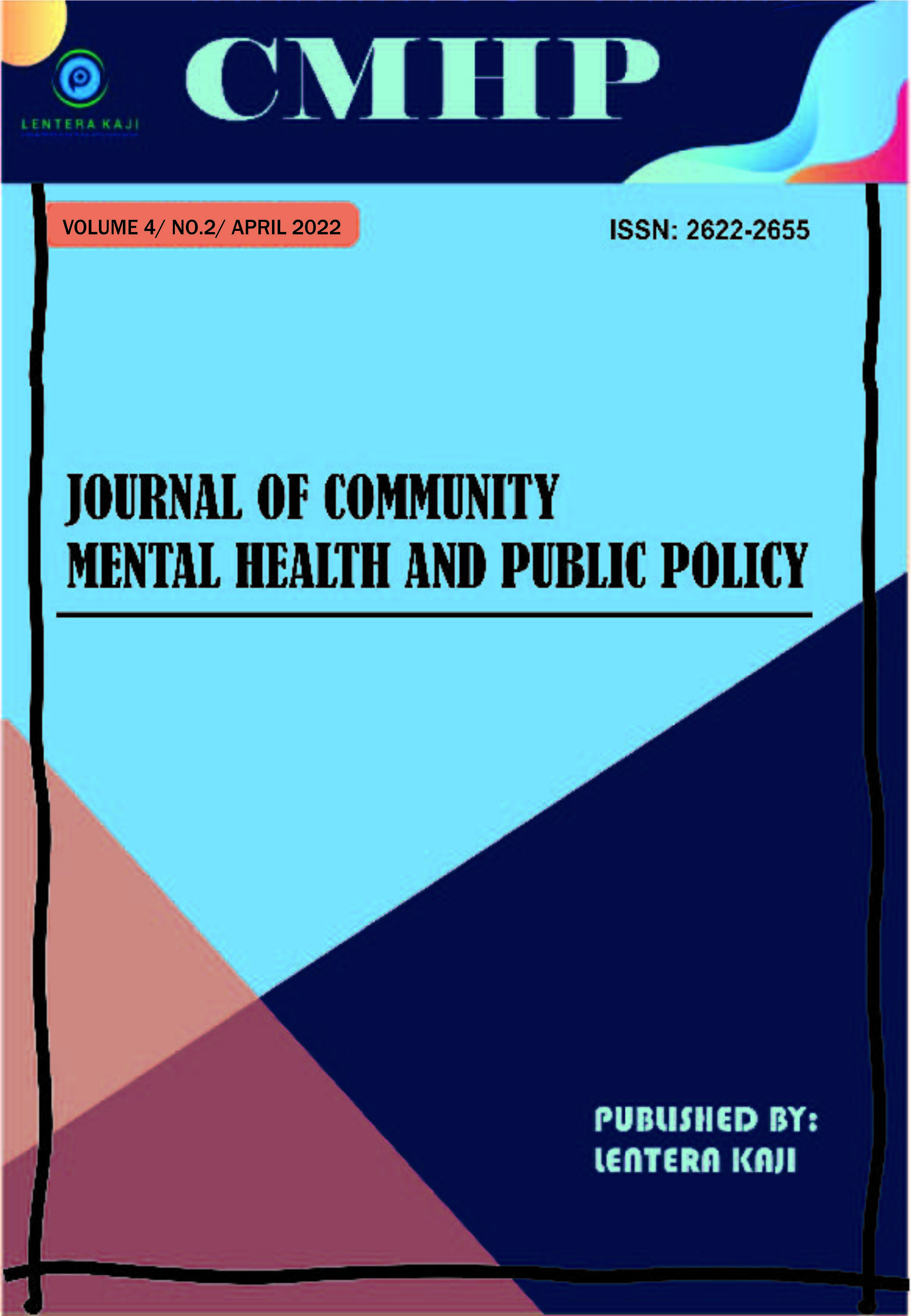 Copyright (c) 2022 Bela Yuli Selfia
This work is licensed under a Creative Commons Attribution 4.0 International License.