HUBUNGAN STRESS KERJA DENGAN UNSAFE ACTION PADA TENAGA KERJA BONGKAR MUAT
Correlation Between Work Stress with Unsafe Action on Loading and Unloading Workers
Sherina Safitri Sri Anjani

Universitas Airlangga

Noeroel Widajati
Keywords:
Work Stress, Unsafe Action, TKBM
Abstract
ABSTRACT
Every job, formal or non-formal, in the air, land, or sea has a risk of the work accident, including the loading and unloading work. The Loading and Unloading Workers (TKBM) as one of the workers that have a high risk of work accidents. Unsafe action is one of the basic causes of work accidents and work stress is a personal factor that immediately causes work accidents. Objective: This study aims to examine the correlation between work stress and unsafe action at loading and unloading workers on one of the loading and unloading companies in Surabaya. Methods: This research was a quantitative study that used a descriptive approach with a cross-sectional study design. Data analysis used the chi-square test. The population in this study was 60 loading and unloading workers in one group with a sample of 52 respondents who were selected by a simple random sampling technique. Results: The results of the bivariate test showed that there is no correlation between work stress (p=0,781) with unsafe action at the loading and unloading company in Surabaya.
ABSTRAK
Setiap pekerjaan baik itu formal maupun non-formal, berada di udara, darat maupun laut memiliki risiko kecelakaan kerja, tak terkecuali pekerjaan bongkar muat peti kemas. Tenaga Kerja Bongkar Muat (TKBM) sebagai salah satu pekerja dalam proses tersebut memiliki risiko kecelakaan kerja yang tinggi. Unsafe Action merupakan salah satu penyebab langsung dari kecelakaan kerja dan stress kerja sebagai faktor personal penyebab dasar kecelakaan kerja. Penelitian ini bertujuan untuk melihat hubungan antara stres kerja dengan usanfe action pada tenaga kerja bongkar muat di perusahaan bongkar muat Kota Surabaya. Metode: penelitian ini merupakan penelitian kuantitatif menggunakan pendekatan deskriptif dengan design study cross-sectional. Analisis data menggunakan uji chi-square. Populasi pada penelitian ini yaitu seluruh Tenaga Kerja Bongkar Muat (TKBM) pada satu grup sebanyak 60 dengan sampel sebanyak 52 orang yang dipilih menggunakan teknik simple random sampling. Pengumpulan data primer menggunakan instrumen kuisioner penelitian untuk variabel unsafe action dan stress kerja, sedangkan untuk data sekunder berasal dari data perusahaan. Hasil: hasil uji bivariat menunjukkan tidak ada hubungan antara stres kerja (p=0,781) dengan unsafe action pada perusahaan bongkar muat Kota Surabaya.
References
Allianz Global Corporate & Specialty (2013) Safety and Shipping Review 2013. Tersedia pada:https://www.agcs.allianz.com/content/dam/onemarketing/agcs/agcs/reports/AGCS-Safety-ShippingReview-013.pdf.
Aprilianti, A., Sumiaty dan Hasan, C. (2022) "Faktor yang Berhubungan dengan Tindakan Tidak Aman (Unsafe Action) pada Tenaga Kerja di PT. Maruki Internasional Indonesia Makassar," Window of Badan Jaminan Sosial Ketenagakerjaan
(2019) Angka Kecelakaan Kerja Cenderung Meningkat, BPJS Ketenagakerjaan Bayar Santunan Rp. 1,2 Triliun. Tersedia pada: https://www.bpjsketenagakerjaan.go.id/beri%0Ata/23322/AngkaKecelakaan-Kerja-Cender%0AungMeningkat,-BPJSKetenagakerjaan-B%0AayarSantunan-Rp1,2-Triliun. (Diakses: 29 Maret 2022).
Bird dan Germain (1992) Practical Loss Control Leadership. USA: International Loss Control Institute.
Gracia, F. J. dan Martínez-córcoles, M. (2018) "Understanding risky behaviours in nuclear facilities : The impact of role," Safety Science. Elsevier, 104(January), hal. 135–143. doi:10.1016/j.ssci.2018.01.006.
Hapsari, Y. D. (2013) Hubungan antara Predisposing, Enabling dan Reinfoncing Factor dengan Unsafe Action (Studi di PT. Waskita Karya (Persero) Pada Proyek Pengembangan Bandara Internasional Juanda Surabaya). Universitas Airlangga.
Health and Safety Executive (2020) Work-Related Stress, Anxiety or Depression Statistics in Great Britain 2020, National Statistic.
Idris, M. K. (2011) "Over Time Effects of Role Stress on Psychological Strain Among Malaysian Public University Academics," International Journal Bus. Social Science, 2, hal. 154–161.
Judge, T. . dan P.R., S. (2008) Perilaku Organisasi. 12 ed. Jakarta: Salemba Empat.
Kristiani, V. A. (2019) Pengaruh Stress Kerja dan Reward terhadap Kinerja Karyawan PT. Aseli Dagadu Djokdja. Universitas Sanata Dharma.
Lameshow, S. dan Hosmer, D. W. (1997) Besar Sampel Dalam Penelitian Kesehatan. Yogyakarta: Gadjah Mada University Press.
Palupi, D. A. (2015) Hubungan Antara Stress Kerja dengan Perilaku Berbahaya pada Pekerja Shift Malam. Universitas Muhammadiyah Malang.
Pebriyanti, D. O. (2022) "Overview of Nurses Factors about Safety Behavior of Infusting in the Emergency Room ( ER ) of Lumajang Regional Hospital," 3(1), hal. 74–83.
Potale, R. dan Uhing, Y. (2015) "Pengaruh Kompensasi Dan Stres Kerja Terhadap Kepuasan Kerja Karyawan Pada PT. Bank Sulut Cabang Utama Manado," Jurnal Riset Ekonomi, Manajemen, Bisnis Dan Akuntansi, 3(1), hal. 63–73. Tersedia pada: https://doi.org/10.35794/emba.v3i1.6567.
de Ramirez, S. S. et al. (2012) "Unintentional Injuries Magnitude, Prevention, and Control," Annual Rev. Public Health, 33, hal. 175–191.
Ramisdar, I. O. (2019) Analisis Risiko Kecelakaan Kerja Pada Proses Bongkar Muat dengan Metode Job Safety Analysis (JSA) dan Hazard and Operability Study (HAZOPS) di PT. Pelindo IV (Persero) Terminal Petikemas Makassar.
Suhma, F. M., Novi, A. C. dan Marufi, I. (2020) "Pengaruh Stress Kerja Terhadap Kejadian Kecelakaan Kerja di Industri Kayu Lapis Bagian Rotary Jember, Indonesia," Multidisiplinary Journal, 3(1). Tersedia pada: https://jurnal.unej.ac.id/index.php/multijournal/article/view/23662/9587 (Diakses: 27 Maret 2022).
Syamtinningrum, M. D. P. (2017) Pengembangan Model Hubungan Faktor Personal dan Manajemen K3 Terhadap Tindakan Tidak Aman (Unsafe Action) pada Pekerja PT. Yogya Indo Global. Institut Teknologi Sepuluh November.
Tarwaka (2014) Keselamatan dan Kesehatan Kerja : Manajemen dan Implementasi K3 di Tempat Kerja. Surakarta: Harapan Press.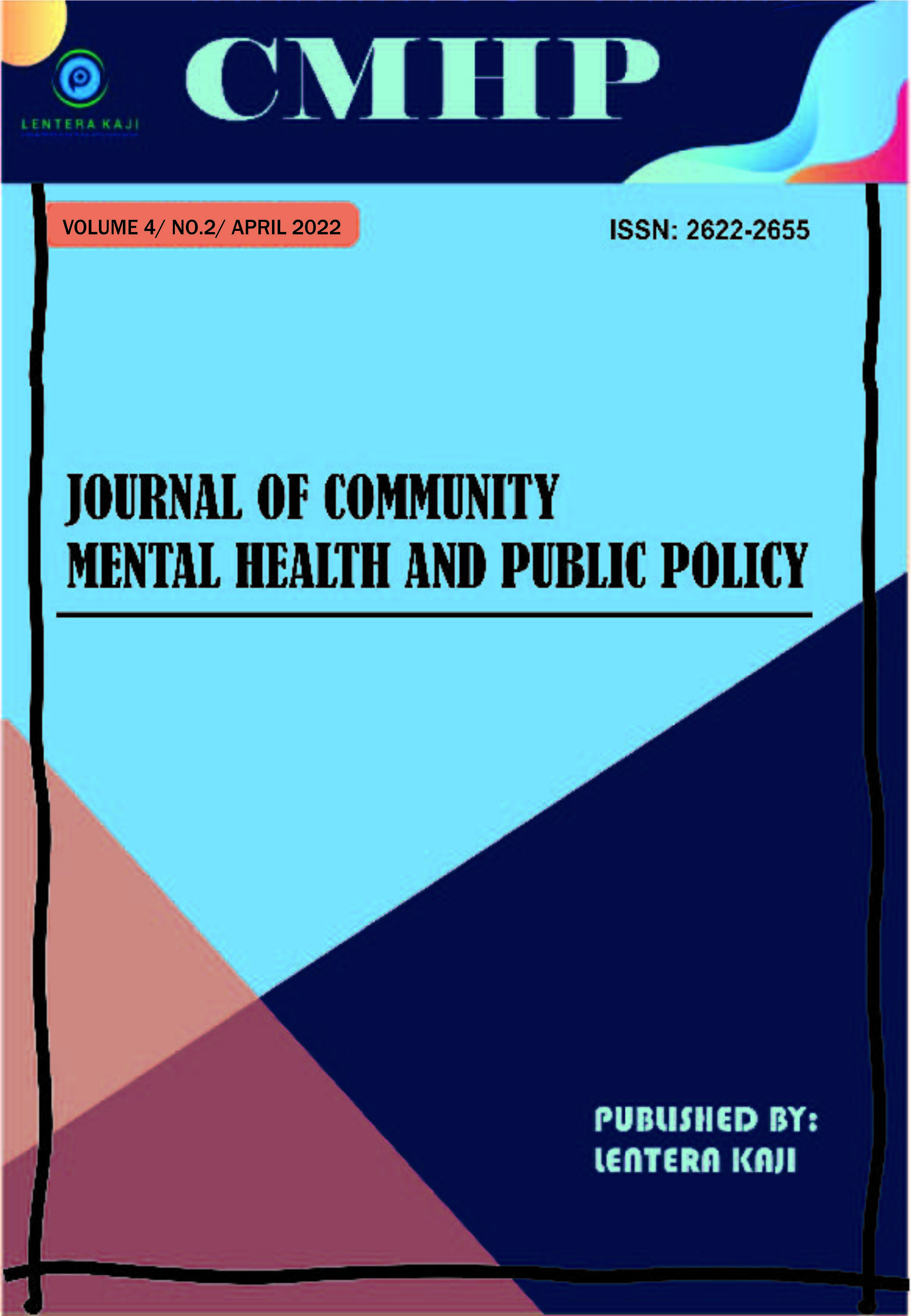 Copyright (c) 2022 Sherina Safitri Sri Anjani
This work is licensed under a Creative Commons Attribution 4.0 International License.