PENGEMBANGAN KESADARAN TENTANG KECANDUAN GAWAI DAN TELEPON PINTAR PADA REMAJA DI KABUPATEN BANYUWANGI, INDONESIA
Raising Awareness Of Gadget And Smartphone Addiction Among Adolescents In Banyuwangi District, Indonesia
Susy Katikana Sebayang

Desak Made Sintha Kurnia Dewi

Septa Indra Puspikawati

Erni Astutik

Syifa'ul Lailiyah

Erlin Qur'atul Aini

Rizky Hariyani
Keywords:
Addiction, gadget, smartphones, adolescents, socialization
Abstract
ABSTRACT
Gadget use among Indonesian adolescents is becoming more prevalent. Most Indonesian families own smartphones for various uses including for accessing the internet. Gadget and internet use has sharply increased during the Covid-19 pandemic. This study therefore reports a short awareness raising method on gadget addiction among adolescents and how to prevent it. Awareness raising session was held online for students of junior and senior high school students in Banyuwangi District. Socialization materials were given in the form of 20 minute lecture and a 2 minute and 19 second short animation video. Knowledge improvement was calculated from a pre-socialization and post socialization test scores and analysed using paired t-test. Participants were also asked to evaluate the impact of the socialization on providing new information and understanding of the issues. Online socialization can improve knowledge on 66.7% of the students with an average score improvement of 1.55±1.81 poin (p<0.0001). Participants stated that the socialization was well executed. Most students (85.5%) agreed to highly agreed that the socialization provided them with new information and 87.1% of students agreed to highly agreed that they understood the materials. Therefore, short online socialization through presentation and short video can improve the knowledge and understanding of gadget addiction among adolescents.
Keywords: Addiction, gadget, smartphones, adolescents, socialization.

ABSTRAK
Penggunaan gawai di kalangan remaja semakin umum di Indonesia. Sebagian besar keluarga di Indonesia memiliki telepon pintar yang digunakan untuk berbagai hal termasuk mengakses internet. Selama masa pandemi Covid-19 penggunaan gawai dan internet semakin meningkat. Oleh karena itu, perlu dilakukan sosialisasi mengenai kecanduan gawai di kalangan remaja dan cara mencegahnya. Sosialisasi mengenai kecanduan gawai secara daring diberikan kepada siswa setingkat sekolah menengah pertama dan sekolah menengah atas di Kabupaten Banyuwangi. Materi sosialisasi diberikan dalam waktu 20 menit dalam bentuk presentasi dan video pendek. Peningkatan pengetahuan diukur melalui test pengetahuan sebelum dan setelah sosialisasi dan dianalisa menggunakan t-test. Peserta juga diminta untuk mengevaluasi manfaat sosialisasi dari segi penambahan informasi dan pemahaman. Sosialisasi secara daring dapat meningkatkan pengetahuan pada 66.7% siswa dengan peningkatan skor rata-rata sebesar 1.55±1.81 poin (p<0.0001). Peserta menyatakan bahwa keseluruhan kegiatan sosialisasi dilaksanakan dengan baik. Sebagian besar siswa (85.5%) menyatakan setuju hingga sangat setuju bahwa kegiatan sosialisasi tersebut memberi tambahan informasi baru bagi mereka dan 87.1% siswa menyatakan setuju hingga sangat setuju bahwa mereka memahami materi yang disampaikan. Sosialisasi secara daring dalam waktu yang singkat melalui presentasi dan video pendek dapat meningkatkan pengetahuan dan pemahaman remaja mengenai kecanduan gawai.
Kata Kunci: Kecanduan, Gawai, Telepon Pintar, Remaja, Sosialisasi
References
APJII. (2017). Penetrasi dan Perilaku Pengguna Internet Indonesia, Survey 2017. Retrieved from Jakarta: https://web.kominfo.go.id/sites/default/files/Laporan%20Survei%20APJII_2017_v1.3.pdf
APJII. (2019). Penetrasi dan Profil Perilaku Pengguna Internet Indonesia 2018. Retrieved from Jakarta:
Bachtiar, F., Fithri, N. K., Amalia, R., Herbawani, C. K., Ismiyasa, S. W., & Purnamadyawati. (2020). EDUKASI MENGENAI DAMPAK PENGGUNAAN SMARTPHONE SEBAGAI UPAYA PENCEGAHAN GANGGUAN MUSKULOSKELETAL PADA REMAJA. Abdimas Unwahas, 5(1),28-32.
Humas Pemda Kabupaten Banyuwangi. (2016). Dana Desa Banyuwangi Alokasikan Belanja Bandwith. Retrieved from https://banyuwangikab.go.id/beritadaerah/dana-desa-banyuwangialokasikan-belanja-bandwidth.html
Ihm, J. (2018). Social implications of children's smartphone addiction: The role of support networks and social engagement. Journal of Behavioral Addictions, 7(2), 473-481. doi:https://dx.doi.org/10.1556/2006.7.2018.48
KOMINFO. (2017). Survei Penggunaan TIK 2017 serta Implikasinya terhadap Aspek Sosial Budaya Masyarakat. Retrieved from Jakarta: https://balitbangsdm.kominfo.go.id/?mod=publikasi&a=dl&page_id=360&cid=9&download_id=187
Nixon, C. L. (2014). Current perspectives: the impact of cyberbullying on adolescent health. Adolescent Health, Medicine and Therapeutics, 5, 143–158.
Randler, C., Wolfgang, L., Matt, K., Demirhan, E., Horzum, M. B., & Besoluk, S. (2016). Smartphone addiction proneness in relation to sleep and morningness-eveningness in German adolescents. Journal of Behavioral Addictions, 5(3), 465-473. doi:https://dx.doi.org/10.1556/2006.5.2016.056
Reyes, T. (2020). Gadget Addiction: Is Your Time on Your Gadgets Causing Problems? Retrieved from http://bridgesofhope.com.ph/index.php/gadget-addiction-is-your-timeon-your-gadgets-causingproblems/#:~:text=Gadget%20Addiction%2C%20the%20Digital%20Drug%20Many%20studies%20have,habit%20can%20threaten%20thei%20physical%20and%20mental%20health.
Thomée, S. (2018). Mobile Phone Use and Mental Health. A Review of he Research That Takes a Psychological Perspective on Exposure Int. J. Environ. Res. Public Health, 15(2692).doi:doi:10.3390/ijerph15122692
Toh, S. H., Howie, E. K., Coenen, P., & Straker, L. M. (2019). "From the moment I wake up I will use it... every day, very hourâ€: a qualitative study on the patterns of adolescents' mobile touch screen device use from adolescent and parent perspectives. BMC Pediatrics, 19(30), 1-16.
Xiang, M.-Q., Lin, L., Wang, Z.-R., Li, J., Xu, Z., & Hu, M. (2020). Sedentary Behavior and Problematic Smartphone Use in Chinese Adolescents: The Moderating Role of Self-Control. Front. Psychol., 21 January 2020.
Zou, Y., Xia, N., Zou, Y., Chen, Z., & Wen, Y. (2019). Smartphone addiction may be associated with adolescent hypertension: a cross-sectional study among junior school students in China. BMC Pediatrics, 19(1),310. doi:https://dx.doi.org/10.1186/s12887-019-1699-9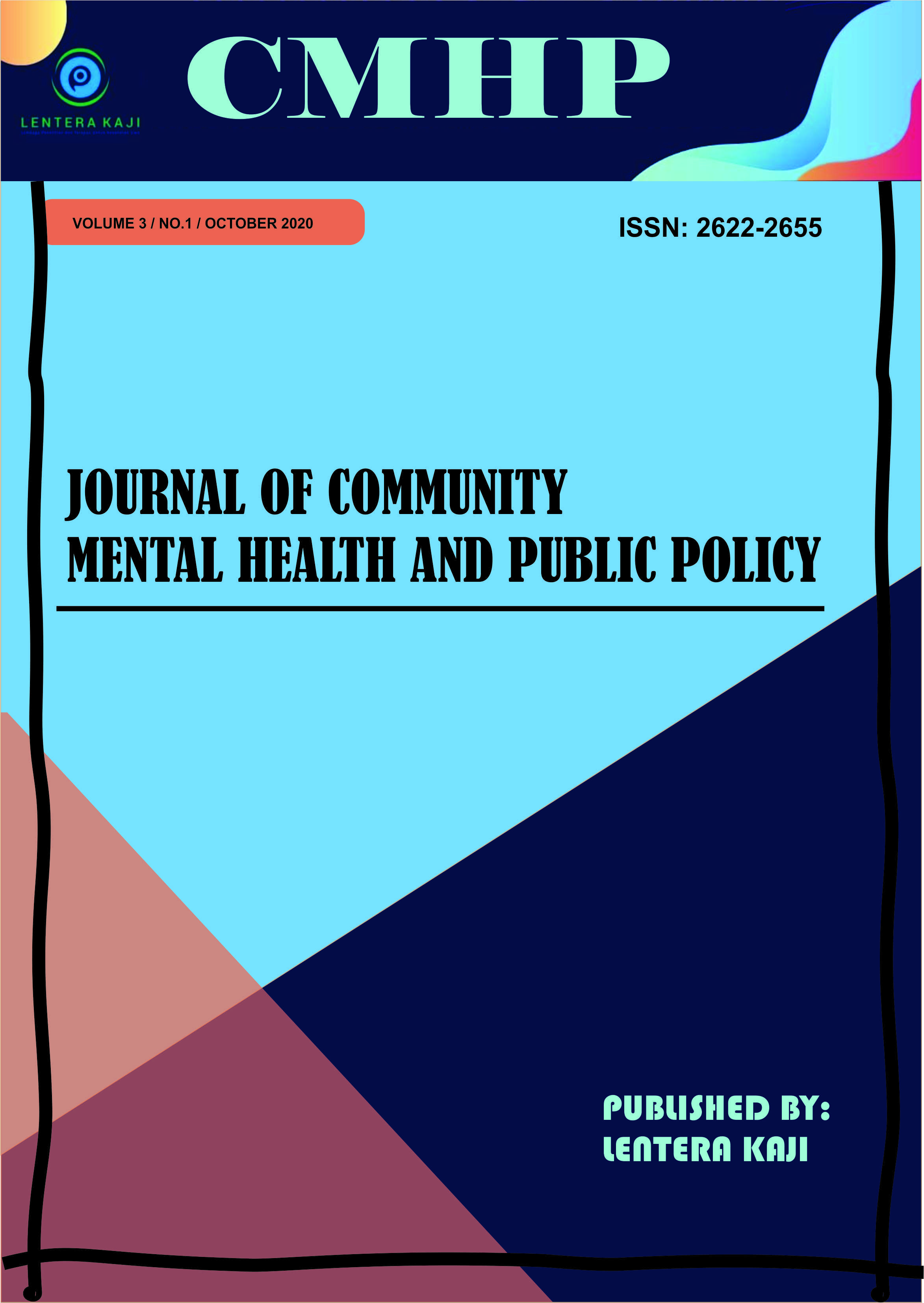 Copyright (c) 2021 susytest k sebayang
This work is licensed under a Creative Commons Attribution 4.0 International License.