HUBUNGAN PENDAPATAN EKONOMI DENGAN TINGKAT DEPRESI GURU SELAMA WORK FROM HOME PADA MASA PANDEMI COVID-19
The Relationship of Economic Revenue with Teacher Depression Dures for Work from Home in Covid-19 Pandemic Periods
Acknes Leonita

Universitas Airlangga PSDKU Banyuwangi

Ayik Mirayanti Mandagi

Amira Dhisa Fakhira

Nadiyah Rahmasari
Abstract
ABSTRACT
The Covid-19 pandemic has prompted the government to adopt a work from home policy. Not only has an impact on the economic sector during the Covid-19 pandemic, but impact on the education sector. The learning activities are also conducted online. During the Covid-19 pandemic, rates of depression may increase due to social isolation. The purpose of this research determined the relationship between economic income and the level of teacher depression while WFH during the Covid-19 pandemic in Jabodetabek. This research uses a quantitative descriptive with a cross-sectional study design theory of Isac Michael I. Data was collectedin by distributing questionnaires, order to obtain a sample of 100 teachers. Based on the results of statistical tests used the Chi-square test, the data obtained p-value = 0.523, it means that there was no relationship teacher economic income and the level of depression. The conclusion from the results of the research was that most teachers experienced a reduction in salaries during the Covid-19 pandemic, but based on statistical results there was no relationship economic income and the level of teacher depression. Recommendation that teachers can do is to improve time management properly during WFH in order to prevent depression during the Covid-19 pandemic
Keywords: Economic Income, Depression Level, Work from Home.
ABSTRAK
Pandemi Covid-19 mendorong pemerintah untuk mengadopsi kebijakan bekerja dari rumah (WFH). Tidak hanya berdampak pada sektor ekonomi dimasa pandemi Covid-19, tetapi juga berdampak pada sektor pendidikan. Kegiatan belajar mengajar juga dilakukan secara online. Selama pandemi Covid-19, tingkat depresi dapat meningkat karena isolasi sosial. Tujuan penelitian ini adalah untuk mengetahui hubungan pendapatan ekonomi dengan tingkat depresi guru selama WFH pada pandemi Covid-19 di Jabodetabek. Penelitian ini menggunakan metode deskriptif kuantitatif dengan desain studi cross sectional menggunakan teori Isac Michael I. Pengumpulan data dilakukan secara online dengan menyebarkan kuesioner, sehingga diperoleh sampel sebanyak 100 guru. Berdasarkan hasil uji statistik chi-square diperoleh data p-value= 0,523 artinya tidak ada hubungan antara pendapatan ekonomi guru dengan tingkat depresi. Kesimpulan dari hasil penelitian didapatkan bahwa sebagian besar guru mengalami pengurangan gaji selama masa pandemi Covid-19, namun berdasarkan hasil statistik tidak terdapat hubungan antara pendapatan ekonomi dengan tingkat depresi guru. Rekomendasi yang dapat dilakukan guru adalah meningkatkan manajemen waktu dengan baik selama WFH agar dapat mencegah kejadian depresi selama pandemi Covid-19.
Kata Kunci: Pendapatan Ekonomi, Tingkat Depresi, Bekerja Dari Rumah.
References
Asfiana, N. W. 2015. Hubungan Tingkat Penghasilan dengan Tingkat Stres Kepala Keluarga Penduduk Dukuh Klile Desa Karangasem Kecamatan Bulu Kabupaten Sukoharjo. Fakultas Kedokteran Universitas Muhammadiyah Surakarta 151, 10–17.
Arfa, R. K, L.F.J Kandou, dan Herdy Munayang. 2013. Perbandingan Kejadian Dan Tingkat Depresi. Sulawesi Utara: Jurnal e-Biomedik (eBM), Volume 1, Nomor 1, Maret 2013, hlm. 733-742, 733-742.
Gugus Tugas Percepatan Penanganan COVID-19. 2020. Protokol Percepatan Penanganan Pandemi Covid-19 (Corona Virus Disease 2019). Jakarta: Gugus Tugas Percepatan Penanganan COVID-19, 19, 31. https://covid19.go.id/storage/app/media/Protokol/Protokol Percepatan Penanganan Pandemi Corona Virus Disease 2019.pdf
Harahap, M., & Putra, A. A. 2017. Pengaruh Kondisi Sosial Ekonomi terhadap Stres Guru di SMA Negeri 1 Kampar Kiri Hilir. Universitas Islam Riau: Jurnal Pendidikan Agama Islam Al-Thariqah, 2(1), 1–20. https://doi.org/10.25299/althariqah.2017.vol2(1).896
Holmes, E. A., O'Connor, R. C., Perry, V. H., Tracey, I., Wessely, S., Arseneault, L., Ballard, C., Christensen, H., Cohen Silver, R., Everall, I., Ford, T., John, A., Kabir, T., King, K., Madan, I., Michie, S., Przybylski, A. K., Shafran, R., Sweeney, A., Bullmore, E. 2020. Multidisciplinary research priorities for the COVID-19 pandemic: a call for action for mental health science. The Lancet Psychiatry, 7(6), 547–560. https://doi.org/10.1016/S2215-0366(20)30168-1
Kartini, Jafriati, & Ismail, C. S. 2021. Faktor yang Berhubungan dengan Tingkat Kecemasan di Masa Pandemi Covid-19 pada Mahasiswa Universitas Halu Oleo. Sulawesi Tenggara: Endemis Journal, 1(4), 7–14.
Kementerian Pendidikan dan Kebudayaan Republik Indonesia. 2020. Petunjuk Teknis Bantuan Operasional Sekolah Reguler. Jakarta halaman 1–17. jdih.kemdikbud.go.id
Kementerian PPN/Bappenas. 2020. Peraturan Presiden Republik Indonesia Nomor 80 Tahun 2020. Rencana Pembangunan Jangka Menengah Nasional 2020-2024, 018903, 1–8.
Marsasina, A., & Fitrikasari, A. 2016. Gambaran Dan Hubungan Tingkat Depresi Dengan Faktor-Faktor Yang Mempengaruhi Pada Pasien Rawat Jalan Puskesmas (Studi Deskriptif Analitik Di Puskesmas Halmahera Semarang). Jurnal Kedokteran Diponegoro, 5(4), 440–450.
Martoredjo, N. T. 2020. Pandemi Covid-19: Ancaman atau Tentangan bagi Sektor Pendidikan. Jurnal Pendidikan, 2(1), 1–15. https://core.ac.uk/download/pdf/328807842.pdf
Oktavia Ika Handani dan Siti Sri Wulandari. 2020. Pembelajaran Daring Sebagai Upaya Study From Home (SFH). Jurnal Pendidikan Administrasi Perkantoran (JPAP), Volume 8, Nomor 3.
Pemerintah Republik Indonesia. 2019. Peraturan Pemerintah Pengganti Undang-Undang Republik Indonesia Nomor 1 Tahun 2020 tentang Kebijakan Keuangan Negara dan Stabilitas Sistem Keuangan Untuk Penanganan Pandemi Covid-19 dan/atau Dalam Rangka Menghadapi Ancaman Yang Membahayakan Perekonomian N. Jakarta tahun 2019(1), Nomor 46.
Pusat Data dan Informasi Kementrian Kesehatan RI. 2019. Situasi Kesehatan Jiwa DI Indonesia. Jakarta: In InfoDATIN (hal. 12).
Weken, M. E., Mongan, A. E., & Kekenusa, J. S. 2020. Hubungan antara beban kerja, konflik peran, dan dukungan sosial dengan stres kerja pada guru di sekolah menengah atas Negeri 1 Manado pada masa pandemi COVID-19. Indonesian Journal of Public Health and Community Medicine, 1(4), 80–88. https://ejournal.unsrat.ac.id/index.php/ijphcm/article/view/32139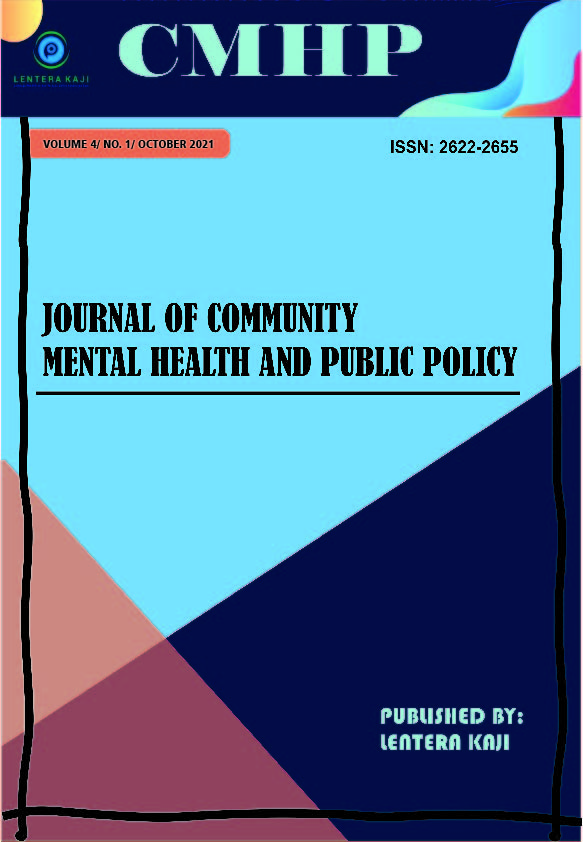 Copyright (c) 2021 Acknes Leonita, Ayik Mirayanti Mandagi, Amira Dhisa Fakhira, Nadiyah Rahmasari
This work is licensed under a Creative Commons Attribution 4.0 International License.